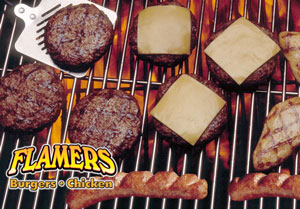 Our story begins in 1987 with a single outlet in Jacksonville, Florida. Like most great success stories, we saw a consumer need and capitalized on it. That need was for high-quality, popular foods prepared fresh and fast in areas of high consumer traffic.
Research and a trip out to eat proves that the hamburger is one of the most popular food items in the entire world and has been for the last 75 years. However, most burgers offered in fast-food environments lack that signature charbroiled taste you can only get from an open flame. That taste, that quality, is the cornerstone of the Flamers offering and what sets us apart.
The next step was simple. We knew that there was a well-established marketing niche in which nothing of this kind was offered - the high-traffic shopping malls, airports, train stations, hospitals and downtown office complexes. So we combined a quality product with this ready-and-waiting market. The result is Flamers Charbroiled Hamburgers and Chicken.
Flamers' recipe for its tremendous success has been combining great food with an easy to use system and high-traffic customer locations. The final ingredient for continued success is
YOU!